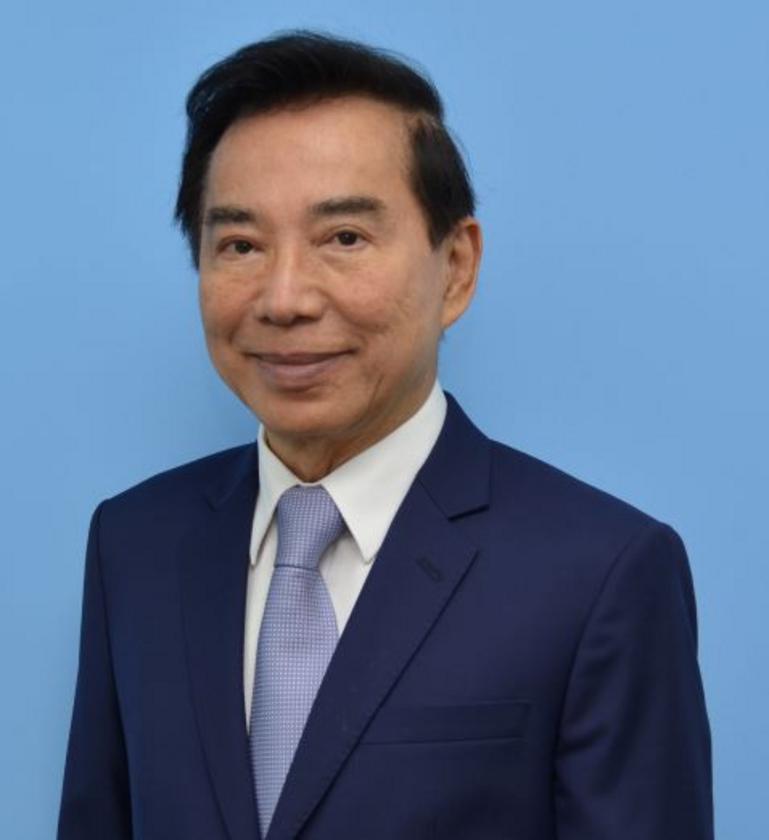 Email-a-Doctor is for use by patients only.
Damkerng Pathomvanich, MD, FISHRS
Membership Status
Fellow
Location

DHT Clinic
1/8 Soi Pradipat 23
Phayathai, Samsennai
Bangkok
10400

TH
Web: https://www.dhthairclinic.com.
Phone: 66-2-6190351
Fax: 66-2-6190353

alternate Address
408/138 Paholyothin Place Bldg (32nd floor),
Paholyothin Road, Samsennai, Phyathai,
Bangkok, Thailand 10400
Education, ISHRS Fellowship Training Programs, & Board Certifications
American Board of Surgery .
Fellow of the American College of Surgeon.

ISHRS Golden Follicle Award, 2010
ABHRS 2003-2013, Retired
Publications
Textbooks
Practical Aspect of Hair Transplantation in Asian Editor in Chief, Pathomvanich, Imagawa Springer.

2018

"Management of definitive hair Alopecia in Asians" in textbook of The Alopecias - Diagnosis and treatments, Chief editor Pierre Bouhanna 2015.
"Oral Minoxidil", Hair Transplant 360 ,Chief editor Sam Lam.
Donor Harvesting: Open Technique, Hair Transplantation, 5th edition, Co-editors Shapiro R., Unger M., Unger R., 2011
Donor Harvesting "skin hook technique" Hair Transplantation, Co-editors Shapiro R., Unger M., Unger R., 2011
Hair transplantation in the Asian Women. Hair Transplantation, Co-editors Shapiro R., Unger M., Unger R., 2011
Hair Restoration Surgery in Asians, Editor in Chief, Pathomvanich, Imagawa Eds., 2010 Springer.
Hair transplantation in Asians", Hair transplantation edited by Robert S Haber and Dowling B Stough, 2006
Hair transplantation in the Asian population: Hair Replacement Surgical and Medical;Dow Stough,Robert Haber p201-205.1996
Hair transplantation in Textbook of Organ Transplantation Chulalongkorn University Medical School 50 years anniversary, Bangkok, Thailand.
Hair transplant Forum International
Should hair transplantation be performed in psoriasis? (Vol 22, No.4, p. 124, 2012)
Does epinephrine influence post-surgical effluvium? A pilot study (Vol 22, No.3, p. 98, 2012)
Hair transplantation in frontal fibrosing alopecia: a report of two cases (Vol 22, No.2, p. 49, 2012)
How to manage intra-operative slippery grafts (Vol 21, No.2, p. 38, 2011)
Trichorrhexis nodosa: an unusual hair transplant complication (Vol 22, No.1, p. 10, 2011)
Slivering of the donor strip in normal saline to avoid graft desiccation (Vol 21, No.1, p. 12, 2011)
Preliminary results using bent needles for transplanting extremely curly hair grafts (Vol 20, No.2, p. 46, 2010)
Does scalp laxity increase with aging? (Vol 20, No.2, p. 50, 2010)
Postoperative edema in mega session : Risk factors and our preventive protocol (May/June 2009)
Follicular unit extraction: experience in the Chinese population (Vol 19, No.1, p. 14, 2009)
A report of hospital-acquired Enterobacter infection following hair transplant surgery (Vol 19, No.3, p 97, 2009)
Post Surgical Hair Loss in the Donor Site after Hair Transplantation: Anagen or Telogen Effluvium? (Vol 19, No.2, p. 20, 2009)
Eyebrow Transplantation using Donor Hair from Sideburns (Vol 19, No.2 p.14, 2009)
Removal of undesired grafts 5 days after transplantation. ( September- October 2008, Vol. 18, No. 5, p. 180)
Laser assisted hairline placement (August- September 2008, Vol. 18, No.5, p.169)
Plastic Needle Shield: A Two in One Solution (Vol 13,No.4 July Aug, 2003)Graft Solution and Storage, Cyberspace Chat. (Vol 13, No. 4, July -Aug, 2003)
Transplanting into miniaturized hair;Cyberspace Chat. (Jan.-Feb., 2002 Vol. 12 No. 1, Page 15)
Letter to the Editors. (Nov.-Dec., 2001 Vol. 11 No.6 p. 186)
Donor harvesting,a new approach to minimizing injury to hair follicle. (Sept.-Oct., 1998, Vol.8 No.5, p. 1, 4-5)
About the Doctor
Damkerng Pathomvanich MD FACS
After he completed his Internship in Chicago, surgical residency in New York , he passed American Board of Surgery and became Fellow of the American College of Surgeon. He moved to start his surgical practice in Kona, Hawaii for many years. He wanted to learn more about cosmetic surgery and underwent one year fellowship training program in cosmetic surgery at Centre of Cosmetic Surgery in Little Rock, Arkansas sponsored by American Academy of Cosmetic Surgery (AACS) . At this centre he was trained in liposuction, face lift, blephaloplasty and many more related to cosmetic surgery under Dr. James D Billie. He was also trained Hair Restoration Surgery at Stough Medical Associates, Hot Spring Arkansas under Drs. Bluford and Dow Stough. At Stough Medical Associates he has learnt scalp reduction, flap, round grafts, split graft, quarter graft, mini graft and single hair graft. During his one year training, he was able to see post op result who were operated many years ago and he recalled many happy patients carried in their old pictures that were bald for comparison. After his fellowship he had visited many cosmetic and hair clinics in the US and decided to relocate his practice in Thailand. He received American Board of Cosmetic Surgery Certificate.
He was the pioneer and introduced hair transplantation technique where he had learnt from the US to Thailand , it was published in the ISHRS Hair Forum International. He started to teach physicians who were interested in hair restoration surgery and was appointed by ISHRS as the director of fellowship training program in hair restoration surgery since 2008, then Chair of ISHRS fellowship training program in 2018. He has trained many physicians worldwide. He passed American Board of Hair Restoration Surgery in 2003.He is a member of ISHRS since 1993. During his practice he has reported his open technique for strip harvesting to minimized follicular transection and scar and was published in ISHRS Hair Forum International. He with his fellow Bertram Ng has invented the laser hairline device to make the hair line symmetric and was presented at ISHRS Annual Scientific Meeting in Amsterdam in July 2009 and was published in textbook Hair Transplantation in Asians (Springer). These led him to received Golden Follicle Award at the 18th ISHRS Annual Scientific Meeting in Boston in 2010 for the out standing achievement and remarkable contribution in the field of hair restoration surgery more than 20 years.
He was appointed Board of Governor of ISHRS for 3 years term.
He is a renowned hair transplant surgeon and has authored/co-authored several textbooks in the field of hair restoration surgery eg., Practical Aspect of Hair Restoration Surgery in Asians, Hair Restoration Surgery in Asian, Alopecia, Hair transplant 360 etc and many publications in the medical journal.
He was invited to speak in hair restoration surgery meeting all over the world for the past 20 years as speakers, moderators and panel. He was appointed the chairman of 22nd ISHRS Annual Scientific Meeting in Kuala Lumpur Malaysia in 2014.
ISHRS Join Year
1993
ISHRS World Congresses Attended
26
Procedures Performed
Beards and Moustaches
Body hair transplantation
Ethnic hair
Eyebrows
Eyelashes
Facelift hair revision
Female hair restoration surgery
Follicular Unit Excision (FUE)
Follicular Unit Transplantation (FUT)
Medical (non-surgical) management of hair loss for men
Medical (non-surgical) management of hair loss for women
Scar revision