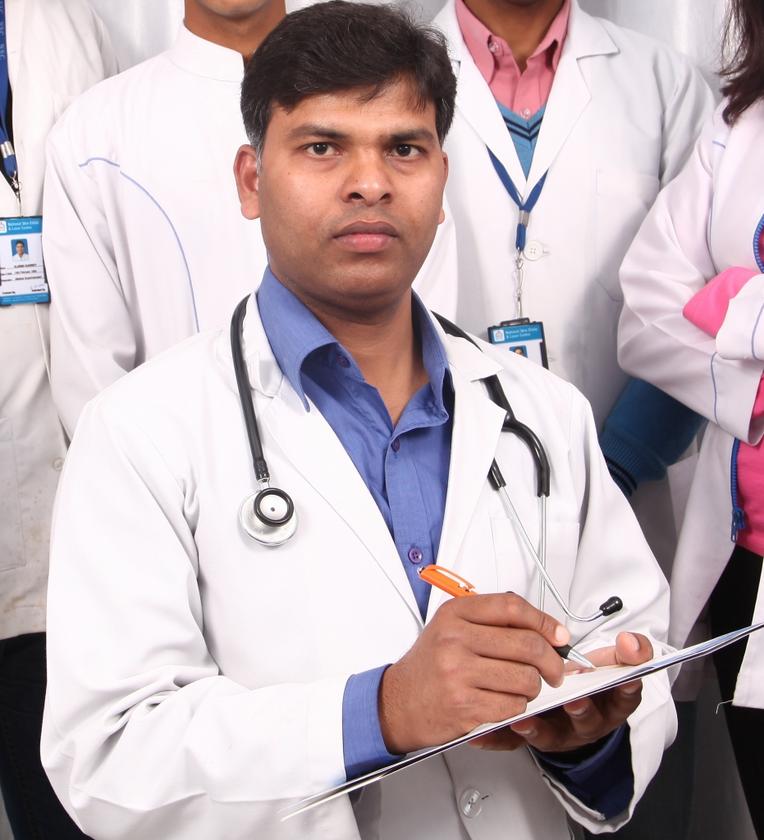 Email-a-Doctor is for use by patients only.
Pradeep Sethi, MD, FISHRS
Membership Status
Fellow
Location

Eugenix Hair Sciences Pvt Ltd.
935 Sector-51
Opp. Amity International School
Gurgaon
122002

IN
Phone: 91-8826153333
alternate Address
Eugenix, 898, Notan Plaza, Second floor, Turner road, Bandra West, Mumbai, India
Education, ISHRS Fellowship Training Programs, & Board Certifications
MBBS, MD, ISHRS
Memberships & Affiliations
International Society of Hair Restoration Surgeons (ISHRS) Association of Hair Restoration Surgeons (AHRS) Association of Cutaneous Surgeons of India (ACSI) Indian Association of Dermatologists, Venereologists and Leprologists (IADVL) Indian Association of Cutaneous and Laser Surgeons (IACLS) Dermatopathology Society of India (DSI) Indian Medical Association (IMA)
Publications
Co-authored book "Step by Step Hair Transplantation" in 2018 Sethi P, Bansal A. Direct hair transplantation: A modified follicular unit extraction technique. J Cutan Aesthet Surg 2013;6:100-5. Sharma VK, Sethi PK, Dogra PN, Singh U, Das P. Primary tuberculosis of glans penis after intravesical Bacillus Calmette Guerin immunotherapy. Indian J Dermatol Venereol Leprol. 2011 Jan-Feb;77(1):47-50. Sethi PK, Khandpur S, Sharma VK. Randomized open comparative trial of dexamethasone-cyclophosphamide pulse and daily oral cyclophosphamide versus cyclophosphamide pulse and daily oral prednisolone in pemphigus vulgaris. Indian J Dermatol Venereol Leprol. 2009 Sep-Oct; 75(5): 476-82. Khandpur S, Sethi PK, Sharma VK, Das P. An atypical presentation of erythema induratum. Indian J Dermatol Venereol Leprol. 2008 Sep-Oct;74(5):505-6. Kumar J, Kumar A, Sethi P, Gupta S. The dot-in-circle sign of mycetoma on MRI. Diagn Interv Radiol 2007; 13:193–195.
About the Doctor
Dr Pradeep Sethi is pioneer of the popular Direct Hair Transplant (DHT®) technique and cofounder of Eugenix Hair Sciences, headquartered in New Delhi, India and is devoted solely to the practice of hair transplantation. They also have branches in Mumbai, Gurgaon, Dehradun and Bhubaneswar, where he personally provides consultations and procedures to prospective and existing patients.He is a qualified dermatologist from the most prestigious medical institute of India, AIIMS (New Delhi). After passing out from AIIMS, he pursued a successful practice of skin, laser and other aesthetics in Dehradun and Rishikesh from 2008 till 2012. In 2012, he co-invented the revolutionary technique of Direct Hair Transplant (DHT® - https://www.ncbi.nlm.nih.gov/pmc/articles/PMC3764754/) which is a modified version of traditional FUE technique, and decided to focus solely on the practice of hair restoration then onwards. Since then, with a strong belief in precision of his work, and driven completely by Science, Ethics and Innovation in his practice, he has completed over 4500 surgeries with the highest customer satisfaction rates in the industry.He loves taking challenging cases and have attended to most number of Grade VII patients successfully. He believe that there's a science and art to the practice of Hair Transplantation. While he is an accomplished scientist, his artistry is visible in the cases of hairline corrections and attending the patients with poor donor areas and successfully giving them full coverage by means of beard and Body Hair Transplant.In 2016, he started the first ever fellowship in Hair Transplant in India, in association with Indian Association of Dermatologists, Venereologists and Leprologists (IADVL). In 2018, he was appointed as the honorary professor for the subject of Hair Transplantation for DY Patil University, Mumbai. In pursuit to educate the next generation of Hair Transplant professional, he co-authored the book "Step by Step Hair Transplantation" to bring his years of expertise and knowledge to new aspirant hair surgeons. The book received praises and accolades from peers across the world.For his contributions to the field of science and humanity, he has been recipient of awards such as "Pride of Odisha", and "Best Hair Transplant Surgeon in India" by The Hospital Management Show & CIMS Healthcare Excellence Award 2017.
ISHRS Join Year
2012
ISHRS World Congresses Attended
6
Procedures Performed
Body hair transplantation
Eyebrows
Eyelashes
Follicular Unit Excision (FUE)
Follicular Unit Transplantation (FUT)
Medical (non-surgical) management of hair loss for men
Medical (non-surgical) management of hair loss for women
Scar revision