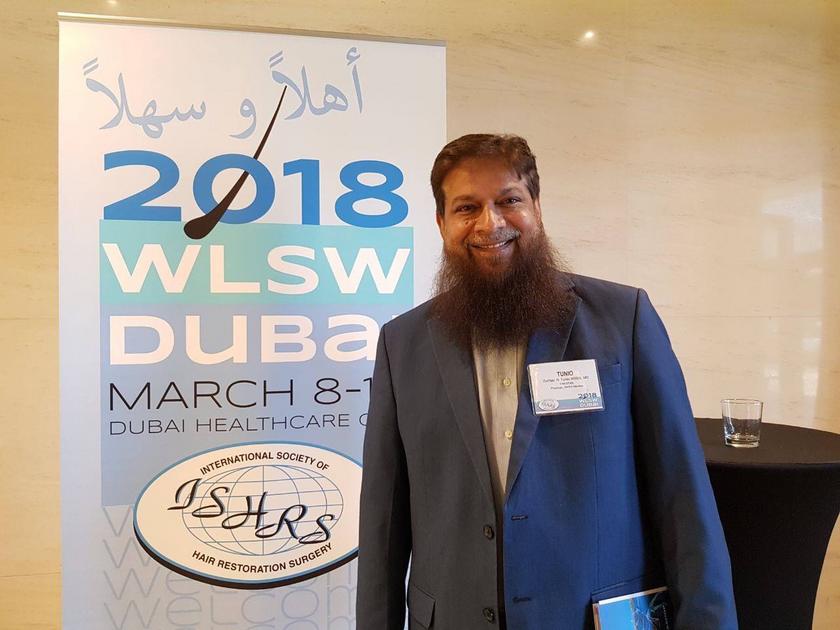 Email-a-Doctor is for use by patients only.
Zulfiqar Tunio, MBBS, MD
Membership Status
Cancelled
Location

Tunio Aesthetics Hair Transplant Clinic
Al Razi Med complex Building 64
Suite 2034 - Dubai Healthcare City
Dubai Health care city , Dubai
505019

AE
Web: https://www.tuniohairtransplant.com
Phone: 971-44494001
alternate Address
2034 Second Floor Block F Building no 64 Al Razi Medical Complex Dubai Healthcare City United Arab Emirates
Education, ISHRS Fellowship Training Programs, & Board Certifications
Fellowship Royal College of Surgeons UK
Member of ISHRS
Dubai Surgeon Faculty and trainer World live surgery workshop Dubai
Attended 3 annual meetings (ISHRS)
Memberships & Affiliations
President of Hair Restorative Society Pakistan (HRSP)
Bradford Hospitals NHS Trust
BRMS
Dow Medical College and Civil Hospital Karachi
Dow Medical College and Civil Hospital Karachi
Dow Medical College and Civil Hospital Karachi
Dow Medical College and Civil Hosptial
GateShead Hospital NHS Trust
International Laser Hair Transplant Surgery Center
Laser Inn Aesthetics Surgery Center
Liaquat Medical College Hopsital
Middlesbrough General Hospital
South Tees NHS Trust
South Tyneside Healthcare Trust
Tunio Aesthetics
Various Hopsitals in Pakistan
Various Hospitals in Pakistan
Publications
Dr. Zulfiqar Tunio, the facilitator of the hair transplant and hair restoration training session at ICAAM 2014, discusses the popularity of the most popular procedures for hair transplants worldwide and what delegates can expect from his training session. The International Congress in Aesthetics, Anti-Ageing Medicine & Medical Spa (ICAAM) is taking place from 5-6 December at Conrad Dubai, UAE. The agenda and the hair transplant and hair restoration.
About the Doctor
I am FRCS Glasgow UK, a specialist in cosmetic plastic and hair restorative surgery, with patients from across the South Asian subcontinent, the Middle East, Europe, the USA, and Canada. I have been performing hair transplant surgeries for over two decades. I have performed 22,000 plus successful transplant surgeries both FUE and FUT with Body Hair.
ISHRS Join Year
2013
ISHRS World Congresses Attended
5
Procedures Performed
Beards and moustaches
Body hair transplantation
Burned scalp reconstruction
Ethnic hair
Eyebrows
Eyelashes
Female fair restoration surgery
Follicular Unit Excision (FUE)
Follicular Unit Transplantation (FUT)
Medical (non-surgical) management of hair loss for men
Medical (non-surgical) management of hair loss for women
mini_graft_transplantation
Scar revision